We are in the midst of a huge planting spree at Westwind. Two weeks ago, we planted 20 hazelnuts, 10 autumn olives, 20 pawpaws and 7 2.5-inch caliper large scarlet oaks.
We placed them at the northern edge of our pastures, hoping for folks to enjoy their presence along Old Germantown rd. Our neighbor has attracted bluebirds, so we are crossing our fingers that this will add to the attraction and places for them to land.
I fretted about deer and elk. Would they stomp all over the tiny hazelnut trees, oblivious to them as they tromp around the pasture? Should we put up a fence?
The very night that we planted the trees, the elk visited us.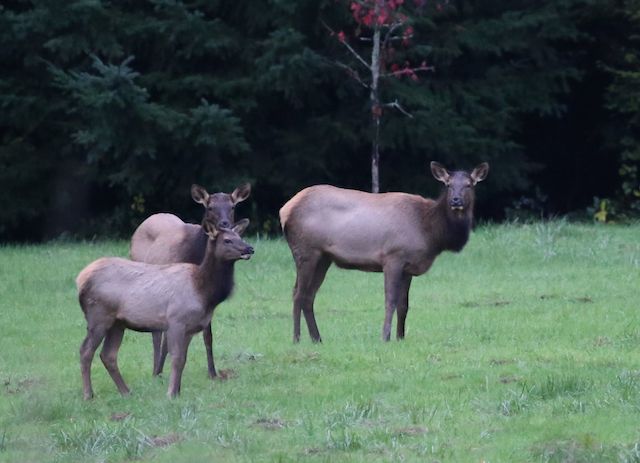 They ate every leaf off the hazelnuts. They avoided the autumn olives and left the pawpaws alone. Regardless, to protect the trees, we added a fence.
One might imagine that a low fence will do nothing to deter the deer and elk. If they want to get into that orchard, they will, certainly. However, as they graze, if they hit an obstacle, they might just turn away from it, rather than trying to navigate it. Given that we have not mowed our northern pastures, there is plenty of food out there for them. We are counting on them to "not look up" and notice the hazelnuts. Otherwise, we are growing an autumn olive orchard with a few pawpaws in it.
We have some fencing that we just put around a host of plantings — buddleia, cornus, lonicera — which seems to be working. The area is narrow — probably only about 7 feet wide. It's also on a slope. So if a deer or elk looks in that little fenced area, he is perhaps thinking — "if i jump in there, I might not fit, so I'll skip it." At any rate, because they cannot judge about distance and the safety of the slope, it appears to be keeping them out.
Wish us luck!